Monthly Archives:
April 2016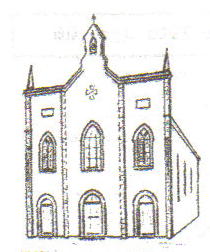 Welcome and thank you for visiting our Parish Website. Our site is intended to be a source of information about the parish for locals and visitors. We hope that you find these pages both informative and supportive.
We welcome your suggestions. Email us at kilmyshallparish@gmail.com
St Mary Magdalene Church, Kilmyshall
St. Mary Magdalene Church, Kilmyshall was built in 1831. The architect Richard Pierce from Wexford, designed the Church. The Church is a large barn-type building with Gothic Georgian-style plain glass windows. These were replaced in 2003 with windows of identical pattern. The Church has recently been refurbished, and a new  marble tabernacle and marble ambo has been added and the Church has also been repainted and new lighting installed.
In 2016 after a long delay due to the fact that the Church is a listed building, the roof was finally replaced and also insulated. It is through the great generosity of  parishioners and all who supported the fundraising efforts of the Parish Council that this work has now been completed.
The Parish is served by our Priest Fr. Pat Duffy and the parish Council, whose aim is to build up a faith and caring community. It is our hope that our website will not only be informative, but will contribute to uniting all who live here and to help build up a community that is caring and willing to share their time and talents for the benefit of their parish community.
---
PARISH INFORMATION
Fr. Pat Duffy C.C. 053 9377188
Email: kilmyshallparish@gmail.com
Weekend

Masses

:   Saturday: 8:00pm & Sunday 10:30am.
Weekdays:    9:30am Mass Tuesday, Thursday & Friday.
                          Monday & Wednesday 7:30pm.
Rosary: Every evening in Kilmyshall Church at 7:00pm.
Mass & Benediction

:  Mass every Wednesday evening at 7:30pm followed by Benediction.
Confessions : Sat. 6:30pm to 7:30pm. Any time by request.
Prayer Group: meets every Wednesday night after 7:30pm Mass in the Parochial House.
Visit our website at www.kilmyshallparish.com
Please let your Priest know when a family
member is in hospital or sick at home
Kilmyshall Parish Office Opening Hours:
Tuesday & Friday 9:00am – 1:00pm
Parish Office: Contact: 053 9377188
All notices for the Newsletter before Wed. at 1:00pm.
DESIGNATED SAFE GUARDING PEOPLE
  Kilmyshall:   Barbara Murphy 087 9580705
---
---
DO SOMETHING AMAZING!
DO A CATHOLIC GAP YEAR
ARE YOU 18 – 30?
INTERESTED IN SPREADING THE GOSPEL?
FIND OUT ABOUT NET MINISTRIES ENCOUNTER WEEKEND. MEET YOUNG PEOPLE OF YOUR OWN AGE.
YOU HAVE WHAT IT TAKES!
Contact:  www.netministries.ie            074 9190606
NATIONAL – 
  NET is a national ministry. NET began in the USA in 1981.
It has spread from there to Australia, Canada, Uganda, and in 2003 the first
team was went to Ireland. Our teams minister to parishes and schools all
across Ireland. As well, in the past few years NET Ireland has begun to send
missionaries on excursions to Scotland, England, and the United Arab Emirates.
EVANGELISATION –
  One of NET's primary purposes is evangelisation. Evangelisation means to share
the Good News of the Gospel Message. Every single one of our missionaries has
had a personal encounter with Jesus in his/her life, and has a personal relationship
with Him. This is extremely helpful in equipping our missionaries to communicate
to the youth the gospel message and the impact that Jesus' Love has had on their lives,
on a peer-to-peer level.
TEAMS –
During their training period, NET missionaries are put into teams. This year, we have
local teams ministering to parish/school communities in cork, Dunshaughlin, and
Athenry. These teams' main priority is to build relationships with the young people of
the area, and help them grow in their faith. We also have a Road team, which travels
to schools and parishes all over Ireland putting on Encounter Days. We also have
two teams on permanent placement in Scotland this year.
Is God calling you to priesthood or religious life?
You have only one life!
How will you use your gift of life?
It is the most important and for-reaching choice you will ever make.
If you feel called to priesthood or religious life, don't be afraid, to take that step and get in touch with your local Vocations Director.
DIOCESE OF FERNS:  Fr. Jim Finn 087/2119151
www.fernsvocations.ie
---
---